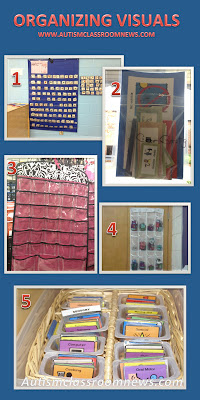 As we all know, classrooms supporting students with autism typically have lots of visuals.  I mean lots and lots and lots of visuals!  Trying to figure out how to store the visuals is always a challenge.  You want them to be easily accessible and you want to be able to find the one you want quickly.  But you also want them organized in some way and out of the way, or they get lost.  With everybody packing up at the end of the year and reviewing how to set up the room next year,  I thought I would share some strategies I've seen and used over the years that have worked well.  Sometimes you can keep them in a shoebox and it works.  But when it doesn't, here are 5 more ideas.
Store them in a pocket chart.  Just make sure that you hold the pocket chart on the wall with something really sturdy.  After about a week, this one fell down because we hadn't used enough velcro to keep it on the wall.  Believe me, you don't want the pocket chart dumping all the visuals on the floor!
This is a set of visuals that gave information to students on the way in and out the door.  So for instance, one is a visual of the playground with an X through and a picture of rain–meaning no playground today because it's raining.  This teacher stored the visuals in a ziplock baggie that was taped to the door.  That allowed them to be handy for where they needed to be used.
This is a jewelry holder which work wonderfully for smaller visuals and can be easily hung on a wall or a door, so you don't have to sacrifice shelf space or table space.  I found this one at Michael's and thought it was pretty.  Target also sells them regularly.
This is a variation on #3 if you can't find jewelry holders or have larger visuals, shoe holders work well with all the same advantages.  These are also great because you can store similar visuals in the same compartment and they are see-through so you can see the ones you need.
And finally this one is baby food or pudding containers organized within a basket.  This works well if you want to organize them in smaller groups.
So, how do you organize your visuals in your classroom?