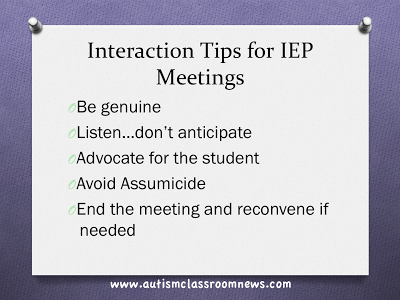 Today I want to continue the discussion of how to run an IEP meeting that is productive, functional and less stressful for everyone involved. In the last post I talked about ways to structure the meeting to assure that this can happen. Today I want to talk about how our interactions can facilitate the process.
1. Be genuine.
Yes, I realize that sounds trite, but it isn't meant to be. ESY. IEP. LRE. LEA. FAPE. These are terms that most of us in special education use constantly. So constantly that we forget they are a foreign language to many outside of our field. Try to avoid using jargon. The educational jargon is one thing, but if you are a related service professional, try extra hard to avoid using the jargon of your discipline…and if you need to, explain it so everyone can understand it. I come from a background (ABA) that loves its jargon, but there is nothing more mystifying than using the words mand and tact when we could say request and label. Using jargon doesn't make you seem smarter; it makes your communication ineffective.
Along the same lines, talk about the student as a child you know and work with everyday–or at least one you've observed. Avoid reading the paperwork out loud…it makes the student less real. Talk about what he or she does in your classroom or while you observed him. Try to include positives as well as the things that you see that need to be addressed. It's important to tell families about what the weaknesses are that we need to write goals for, but it's just as important to help them see that you recognize the strengths and gifts the child brings.
2. Listen, don't anticipate.
It's so easy in any conversation to jump to conclusions about what someone is going to say. I am very guilty of this at times and for some reason like to fill in what i think others are going to say. I think I must believe I'm making it easier, but in reality I'm taking away their voice. Listen to others in the meeting. Look at them when they speak. Repeat back what you have heard by rephrasing it to assure that you understand. Also, avoid anticipating what you think parents (or schools) are going to say, suggest, propose. Ask questions and listen to the answers. Don't assume that a parent doesn't want a functional curriculum option if you've never discussed it. Perhaps they don't even know what it means.
3. Advocate for the student.
The one thing that every member of that IEP team has in common….the student you are discussing. Everyone at that meeting should be advocating for him or her. It shouldn't be just the family's job. The teacher (and related service personnel) is the expert in knowing who to educate and, if she has worked with the student, in the student's performance and learning. The parent is the expert in their child long-term and can see beyond the classroom. Each person brings something to the table that is important to consider. If the teacher doesn't stand up for what she believes the student needs in her classroom, even if she does it behind the scenes prior to the meeting, who will? Tell the administrators what the student needs to be successful. If it isn't an option for some reason, tell them what you will be able to do and not do without that curriculum / aide/ training. You won't always get your way, but you have to advocate for what the child needs.
4. Avoid "Assumicide"
Assumicide is when you commit suicide by assuming something incorrect about someone. You tank a relationship because you assumed something about that person's behavior rather than taking it at face value.
An example of assumicide for a teacher: The parent is late to the meeting or keeps canceling an IEP meeting. The teacher assumes that the parent doesn't care when in reality there was a death in his or her family and then another child was sick.
An example of assumicide for a parent: A teacher has to leave a meeting before it's finished at 3:30 pm every day. The parent assumes it is because she doesn't like to meet with the parent so they have set limits on how long the meetings can be. In reality, the teacher has a child at daycare that ends at 4 and if she picks him up late she is charged for each minute.
Believe what people tell you. Yes, sometimes you will be taken advantage of or feel duped, but you can sleep at night knowing that you haven't read something into a situation that was incorrect and judged someone who didn't deserve it. In the long run, you will have a better relationship with that person. Steven Covey has a great story in 7 Habits for Highly Effective People about a father on a train who can't control his kids. People think bad things about him and then they find out their mother just died. I may have gotten the details of that a bit wrong, but you get my point.
5. You can end the meeting and reconvene. Take a break.
There is nothing that says you have to have an IEP meeting that is completed in one session. In reality there are only so many hours that you can sit in a room with someone and be productive in a meeting. While marathon meetings are sometimes necessary, even in those, I recommend taking regular breaks and leaving the room, taking a walk outside, and remembering there is an outside world. If a meeting gets contentious, suggest reconvening at another time after everyone has a chance to think about what was discussed. Plan your IEP schedule so that this is possible. Give yourself (and the others) a break and it will turn into a more productive discussion, particularly in emotions are running high.
So, these are just some ideas i've developed over the years to help the IEP become a more functional process. I truly believe in the value of the IEP team and the process, while set out to be contentious in the way it is structured, can be beneficial. A strong IEP that comes from a good collaboration of a team can set the tone for the year for the student for this year and for years to come. It builds trust when a meeting goes well and everyone feels heard. What tips do you have to share…please do! We all can use all the help with this process we can get!
Until next time,