Click on any of the pictures or the button at the end of the post to grab this time-saving bundle!
So if you teach real-life math, grab a beverage of your choice and I'm share some ideas on how to use these or similar materials and extension activities for your classroom.
You could create your own. Or save yourself some time and click any picture in this post and check them out in my store.
Real-Life Math Sales Flyers
Within the set, there are 5 stores including toys, sports, hardware, shoes, and winter clothes. The sales flyers resemble ads you would see in a paper or mailer.
There are either 2 or 3 flyers for each store. Each flyer is differentiated for There are 5 stores total (a toy store isn't pictured) included. Each store includes 2 or 3 differentiated flyers that are identical but have different prices. The toy store and winter clothing sale flyers have 3 different flyers with prices with no change, prices with change in 25 cent increments and prices with more complex change. The hardware store, sporting goods store and shoes and accessories store flyers include 2 flyers. One has no change in the prices and one has complex change. You can use all the activities (task cards and worksheets) with any level of store for that item (e.g., each worksheet can be used with all 3 levels of the toy store).
Functional Reading Worksheets
Each store has 2 worksheets focused on reading the sales flyers. They require students to
identify what can be bought in a store,
locate how many of different colors (or other features) of an item are available,
the least expensive or most expensive item in the flyer,
locating item numbers, and
determining possibilities of purchase with a set amount of money.
And each worksheet has 2 versions. One version has a word bank of answers while the other version doesn't. Students can use the one with the word bank to either cut and paste answers or just for reference to write in the answers.
Price Task Cards
I use task cards with the sales flyers to have students determine prices of the items on sale. Depending on which sale flyer you choose, there are different answers. However, all the task cards for a specific product type (e.g., sports, toys) work with all the flyers for those items.
Price Task Card Features
Task cards color coded to match the flyers so it's easy to organize
8 to 10 task cards have picture cues to match the flyers for the item
8 to 10 identical task cards per set do not have picture cues
Check-Writing
Each store has 8 to 10 task cards for writing checks to make purchases. Students need to locate the price of an item and write a check to purchase it.
In addition, each store has 5 worksheets requiring students to total the amount needed to purchase 2 to 3 items from the sales flyer. They then need to write a check for the purchase amount. Then they determine a new balance in a checkbook register. And each worksheet can be used with any of the related store flyers.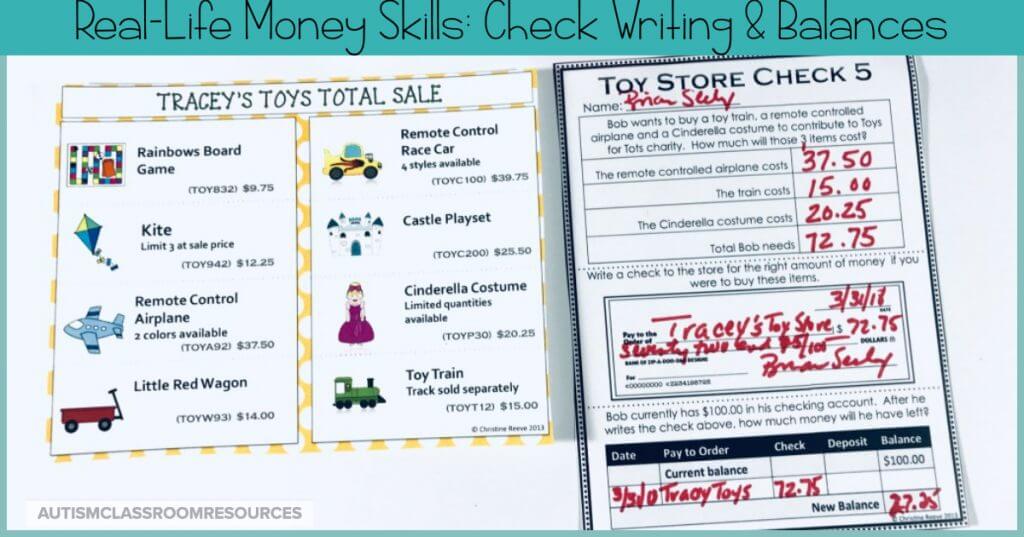 Determining Totals of Multi-Item Purchases
Each store has 5 worksheets requiring students to total the amount needed to purchase 2 to 3 items from the corresponding flyer. The student then circles the bills that could be used for the purchase and determine the amount of change that would be received based on giving a clerk a set amount to buy the items. The kit also includes an answer key.
Debit Card Use
Ideas for Teaching Real-Life Money Skills
Using real or play money to practice making purchases based on prices in a store flyer. Start with basic stores and progress to more complex.
Teach with task cards or something similar for students to work individually or in small groups to practice finding and writing prices in sales flyers.
Create or use reading worksheets for students to practice finding information in sales flyers
Have students use flyers to determine prices, add prices, determine if they have enough money, and practice writing checks.
Add the materials, as they are mastered, into independent work systems.
Have students locate ad flyers in mailings, newspapers or online. Have them find prices and practice writing them down to purchase set items.
Students can plan out purchases using sales flyers from local businesses and determine how much money they would need to make the purchase.
Using flyers from local businesses, students can plan out purchases from flyers from local businesses and take community outings to make the purchases and practice exchanging money for items and receiving change (or using a debit card).
Summary & More Info
This is a great product that allows for differentiation so that it meets the needs of multi-level classrooms. I love making tools that focus on real-life money skills and life skills. And the students love to learn how they can buy things as well!
Until next time,