As we continue on our journey you can check out other posts in this series by clicking here.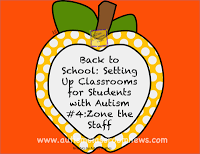 I wanted to start talking about scheduling staff as Part 4 in the Back to School Series. I talked about it for a self-contained high school class over on A Special Sparkle, and much of what I've talked about so far have been self-contained classrooms. So I thought to kick off zoning here I would give you an example of zoning within a general education environment of a high school. First, let me talk a little about what a zoning plan is.
What it is
A zoning plan is simply a schedule for the staff that is detailed enough to tell the staff what they need to be doing. It doesn't replace a lesson plan for daily activities that change, but it does tell everyone in the classroom / educational environment who they are responsible for, where they should be, and what type of activity they should be doing. If you want to know why it's called a zoning plan, hop over to the post on A Special Sparkle where I talk about that. (I also talk about some other functions and reasons for having a zoning plan). So why do we need a zoning plan?
Top 5 Reasons to Have a Zoning Plan.
It increases student engagement. A well-run classroom focuses on ways to increase the engagement of the students in meaningful activities. If the staff has to constantly check among themselves to find where to be and what to do, this becomes down time while the students have to wait. Most of the students I work with are not good waiters and downtime is not your friend. A good zoning plan has been shown to increase engagement of students.
It makes sure every job gets done. A zoning plan specifies who cleans up. Ever realize there are 3 people wiping down a lunch table and 1 person with a group of 15 kids? A zoning plan makes sure that staff know which one of them should clean the lunch table and which ones should support the students during the transition.
It avoids "I thought you had it/him" syndrome. The more detail and specifics it contains, the less possibility of things getting lost. I even zone in who is in charge of taking the walkie talkie to lunch or recess, because otherwise I find that we have cases of "I thought you had it." A zoning plan avoids just that issue. And let's face it; it's one thing to forget a walkie talkie; it's another to have a student not supervised that you thought someone else was supervising.
It assures lunches and breaks. It makes sure that staff know when they will have a break. Having a break out of the class increases my engagement in the class. I know we all think we are Wonder Woman and Superman, but let's be real. If you don't take a break out of the room once in a while, you will find yourself mentally taking a break IN the room with the students. That does not work. Also, it's one thing for you to be a superhero….it's not something you should expect from other staff members (even though many of them are!).
It is a staff management tool. I know that all teachers went to school to be a manager and supervisor of others, right? Oh, you say you went to school to work with the kids? Hmmmm, doesn't always feel that way. Most teachers don't have experience supervising others. They are also often asked to direct others who are older, more experienced, and who have been in the setting longer. A zoning plan is developed as a team in collaboration and takes the confrontation of direction out of the equation a bit. Putting it in writing helps everyone see what needs to be done for the good of the program. And if worse comes to worse, having it in writing means that people can be held accountable (teachers and paras) for what they need to be doing. Collaborating and listening to other team members about what they need and don't need (e.g., when they need a break) increases everyone's willingness to work together to have a room that runs itself.
So, to give you an example let's look at the general education high school zoning plan.
In this case, the teacher had 3 paraprofessionals who supported students throughout the school. Some were supporting students in a self-contained room at times and general education at other times. The initials in the boxes are the names of the students and the plan outlines what each staff member is to do during each period of the day, including when he or she has lunch. This teacher had difficulty with staff getting back to cover other kids from one classroom to another. Writing it down helped her to make it clear what they needed to do and who needed support and kept everyone on schedule. It also specified who got peer support so the aide would know they needed to support the peer directly rather than the student with special needs. The comments and contingencies refer to other information that is needed like when the SLP is supporting students in the classroom or other environments.
I'll share another example in the next post. In the meantime, have you used zoning plans in your classroom? What do you think is important to include?
Until next time,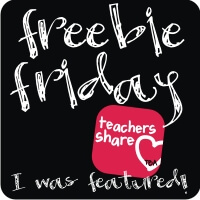 And hop on over to Freebie Friday and Manic Monday to snag some more great back to school freebies!